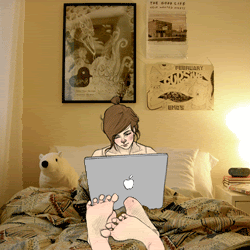 Tomorrow morning I'm expected to hand in a digitized self-portrait in order to prove my knowledge of the electronic submission process. I probably didn't have to do this much work (which really isn't much as I'm reusing a drawing I'd done months ago) but I liked this concept and decided to run with it.

If you're wondering how I accomplished this I've included the unedited drawing, the final image, and this snazzy .gif. Basically all I did was take a photo and plop my drawing on top of it, playing around with levels, exaggerating hues, and making the computer the sole light source.

In the words of Neil Buchanan, "try it yourself!"