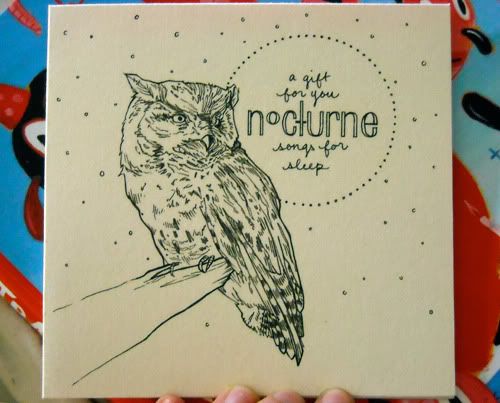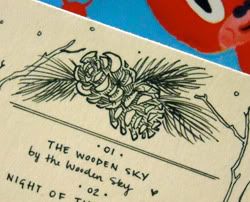 The other day my schoolmate
Erin McPhee
sent me the only cool "chain letter" that I've ever received ever. Basically, I am to send artwork to the person that sent it to her (in this case a first year illustration student) and forward the message to six people. Those six people will send artwork to her and forward the message to six more people who will send artwork to me. Do you follow? Probably not. It took me an embarrassing "reply all" mass-messaging screw up to figure it out myself.
In any case, I've decided to make a digital mix tape of music that I listen to while I'm nodding off to sleep. I made the CD case/sleeve out of cream Stonehenge. I'm currently working on getting the bones down to paint in and around tomorrow. To the right is a small glimpse of the track listing on the inside panels. I'll definitely post the final before I send it off to Mississauga!
My pastel self portrait is due on Wednesday afternoon. I spent a bit of time on it tonight establishing the shirt, hat, and legs. I'll fix these up tomorrow night when I throw in the background. Definitely going to invest in some spray fixative. There's no way this is making it to school in the trunk of my car without getting smuged.