So, I spent yesterday evening with my friend
Chris Robertson
who was visiting for his birthday all the way from beautiful Montreal. He is to blame for the title of this post, the amazing polar bear painted on the wall behind me (that has yet to be completed and I've yet to photograph), and for the creation of this birthday card. I mean, I made it. But it's for his birthday.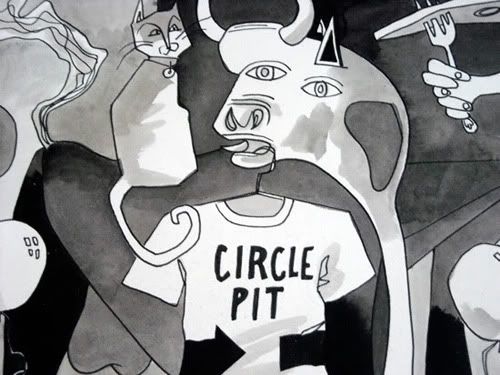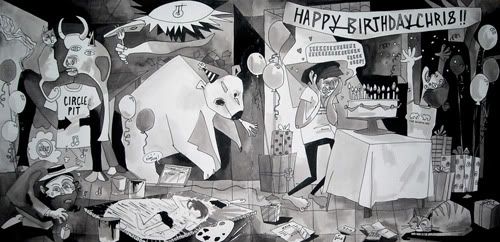 Click to enlarge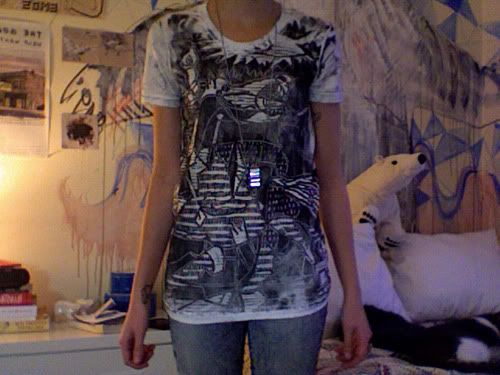 He came bearing gifts! An assortment of prints and this t shirt (that I probably shouldn't sleep in). Guernica! See! A connection!

Anyways, Chris definitely won the insomnia contest. We painted until 4ish and watched TV until 5ish, at which point I crashed. I was awoken around 8 AM to the question, "do you want to start painting again?" When I fell back asleep, he hung out with the polar bear some more. Props to you, sir! I hope you had an enjoyable stay as I definitely enjoyed your company. And stir fry! See you at Christmas :)

Finally, on an unrelated note, I've completed a zine that I will be assembling on Thursday evening. It's about my borderline romantic relationship with my bicycle. It doesn't sound like much but just you wait. I'll make them available for purchase in the Etsy shop I've never set up. In any case, here's just a sneak preview.