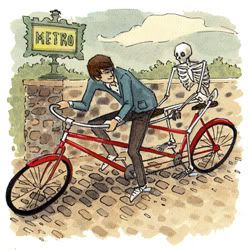 I've completed my first illustration of four for our semester's narrative assignment and Joe approved of it! I am happy and in turn I am sharing. I never thought he would be stoked on the idea of a tandem bicycle, seeing as there is absolutely no mention of one in the story I am illustrating, but I sold him on it.
So, this is my spot (4 x 4" with .5" bleed) completed in watercolour, gouache, ink, and acrylic (so basically everything) on fawn Stonehenge printmaking paper illustrating the resolve in David Sedaris'
Memento Mori
.
Yesterday the Sheridan Self Publisher's club assembled with the intention of submitting pages for our cumulative zine project titled "On The Cusp". Due to a heavy workload at school I resorted to searching through old journals in order to find something I could get away with scanning, printing in black and white, and submitting. I stumbled upon this experimental painting that I totally forgot about. Erin was stoked on it in black and white so I wanted to show her the colour version. Here you go, Erin!