It's finally over! The semester has come to an end and I am happy to say that I am finally free of all school-related stress. I will however be returning to Sheridan on Tuesday morning to clean studios for money (and free found art supplies).

Anyways, I spent my first day out of classes working start to finish on this commission piece to be used for wedding invitations. I worked from a photograph that I was provided and added a hand-drawn antique oval frame around the illustration. Click on the photo above to enlarge and view with and without the frame! This was a really fun and relaxing piece to work on so I didn't mind doing it on a Friday night. I had enough licorice and chocolate to get me through.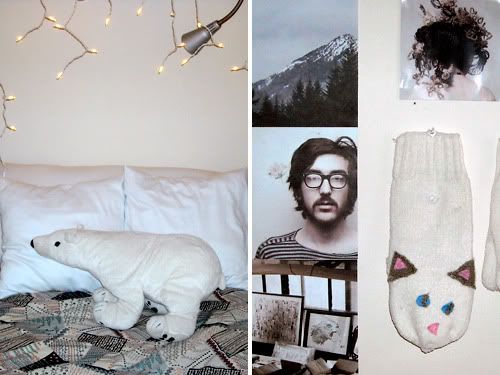 I just did a massive cleanup of the bedroom that I'd been neglecting over the course of the week. I can see my floor now that my entire wardrobe is no longer strewn all over it. Today I'll be working on my brother's Christmas present which is no secret; a painting on this wooden canvas of Kenny and Spenny (obviously from Kenny vs Spenny) wearing dog shock collars. Not my subject matter of choice but I'm going to go for it and make it awesome because I was supposed to do it for his birthday... which was in January. I owe him an 18th Birthday/Chistmas present, I guess.
And yes, those are mittens fashioned as kittens. The creator can be seen to the immediate left, along with some of my other favorite photos from
Mountains magazine
(by
Brooks Reynolds
). I've wanted to brag about these mittens on here for quite some time and now I have the chance to.