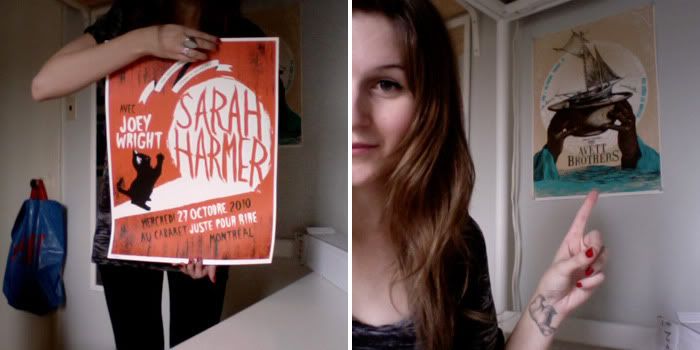 Sorry these pictures super-suck. I'm always just a little bit too lazy to pull out my digital camera. It's not worth fiddling with the timer when Apple makes it so easy.
I just went to the post office with a parcel notice expecting to pick up some mittens. Instead I was presented with a long box. I'd completely forgotten that I was expecting a few copies of the poster I'd made for Sarah Harmer AND that Chris said he would throw in a few extra goodies for me. I was delighted to find a few rad show posters, including one for the Avett Brothers. I'd like to put up more but I used up my last four pins on this guy.
In any case, Chris rules! Expect mail soon, my friend! Please check out
his website
! He does amazing things beyond being a printing robot! So many exclamation points!